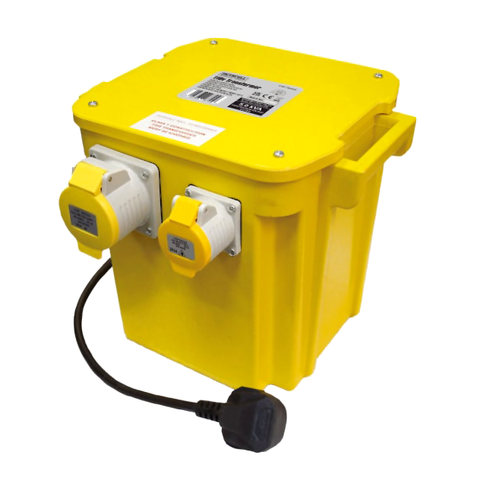 My Store
Triple Outlet Transformer 5kva 110v - (ZSC013)
Designed for use on the worksite, or anywhere where a 110V supply is required, to provide power to industrial power tools.
This 110V transformer has 3 outlets 2x 16 amp and 1x 32 amp and has a heavy-duty GRP waterproof case which is rated to IP44, making it fully weatherproof and therefore suitable for use in most types of outdoor and worksite conditions.
This 5 kVA transformer has great safety features that include a re-settable thermal overload protection function and a rubber cable fitted with BS approved 13 amp rubber plug.

Intermittent Rating: 5.0 Kva

Continuous Rating: 2.8 Kva

Input: 240 Volt 50Hz

Output: CE Approved: 2x 110 Volt 16Amp / 1x 110 Volt 32Amp

Rated Maximum Ambient Temperature: 20°C

Centre Tapped To Earth

Intermittent Duty 5 Min on / 15 Min Off

Weight: 31kg