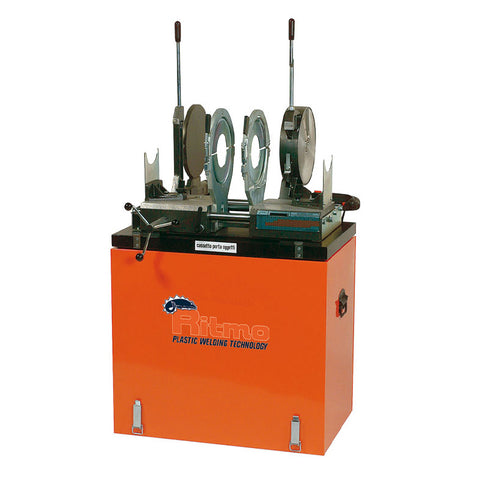 My Store
REMS RV250 Butt Fusion Machine 75-250mm (HDPE)
VR 250: a professional welding machine ideal for medium sized pipes and sewers up to Ø 250 mm.

It consists of a machine body with a pressure regulating device, a pair of clamps, two lateral supports, an electrically controlled milling cutter for levelling the ends of the pipe and/or fitting with a safety microswitch, an extractable heating plate with automatic device to control the temperature, a sliding support and a steel case that acts as a work bench and cover when transporting the machine.

The VR 250 can weld fittings such as bends and tees. Branches can also be welded thanks to the upper extractable jaws (on request) called SUPRA.


STANDARD COMPOSITION
- Machine body with a milling cutter and lateral supports
- TP 250 TE plate
- Right and Left clamp Ø 250
- Working/transport steel case


ON REQUEST (ACCESSORIES)
- Clamp adapters Ø 75 ÷ 225 mm
- Lateral supports adapters 
- Wyes (Y) clamps from Ø 75 ÷ 250 mm (while stocks last)

DOWNLOAD OPERATOR MANUAL HERE: