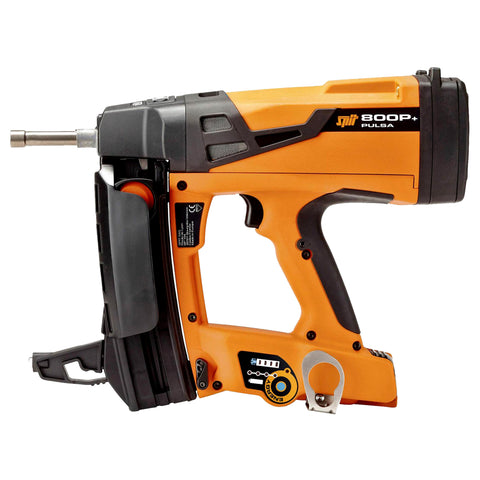 My Store
Pulsa Spit Nailgun - "First Fix" (PTM101)
The Spit Pulsa 800P Cordless Gas Nailer is the fastest and most reliable solution for fixing drywall to steel and concrete.
Increased power, fixing in to the hardest base materials with low actuation force, working faster and less fatigued especially overhead. Slim, streamlined design for best line of sight and access in tight situations and locations. Easy onsite servicing with quick access to clear nail jams. LED display shows fuel and battery power, while Start & Go allows up to 3000 shots per battery charge.
Engineered Pin Guides, thicker and harder pin guides for reliability and guidance. Increased excellent success rate. Improved front end dust protection, crucial for overhead applications and dusty environments. Reduction in service intervals and reduced Hand Arm Vibration (H.A.V) low expose levels for minimal health and safety risks.
Ideal for fixing metal drywall track systems to concrete, masonry, block and structural steel, timber up to 20mm thick to concrete, brick, concrete block and structural steel, fire protection systems to steel, angle brackets to concrete, brick, block and structural steel, EML to concrete, brick, block and structural steel (Using 25mm steel washers and magnetic pin guide).
Nails and gas sold separately.

RELATED PRODUCTS...