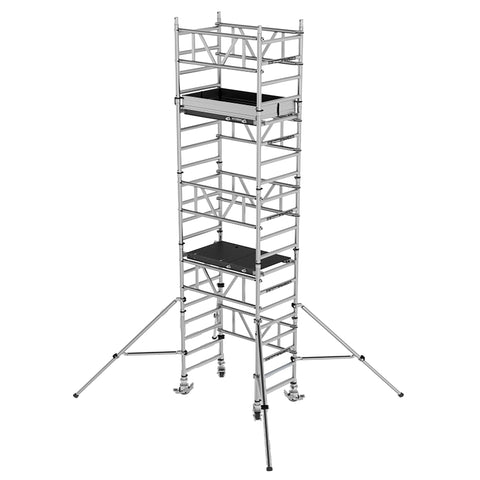 My Store
Mi Tower - (SAE071)
MI TOWER is the world's first one-man, quick assembly access tower, making scaffolding access available to the individual. The unique design allows a single worker to erect the sturdy scaffold tower in under 10 minutes, maximising the available working time.
The MI TOWER does not compromise on security, with easy-clip frame clips and easy-lock stabilisers creating a stable foundation for working that is straightforward to assemble. Designed specifically for one-man use, the MI TOWER is small enough to fit into tight spaces, making it suitable for use on a range of sites.
The base of the MI TOWER doubles as the storage and transport trolley, making it easy to keep all of the components together when not in use, when being transported and at the job. Highest quality, latest testing standards, compactness, and versatility combine with ease of transportation and assembly.
Max platform height: 4.2M

Max working height: 6.2M

Platform length: 1.3M

Platform width: 0.75M

SWL: 275KG

Max users: 2


DOWNLOAD OPERATOR MANUAL HERE...


RELATED PRODUCTS...

Scaffold Tags - (ZPA007)


No Noc Foam Bumper 250mm - (ZPA005)