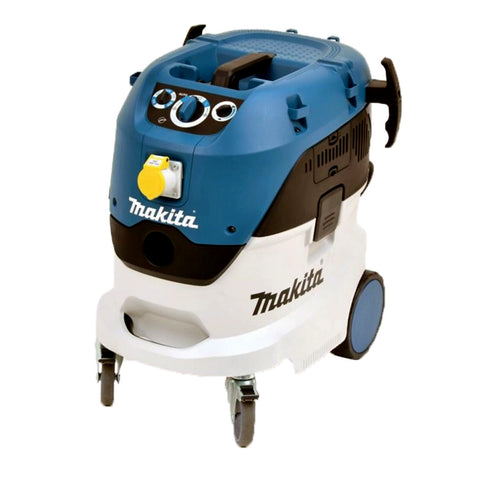 My Store
Makita VC4201M Dust Extractor - 110v - (SSV009)
The Makita VC4210MX/1 is a Wet and Dry M-Class Dust Extractor with power take-off function - the automatic On/Off function activates when a connected power tool is switched on.
Because it's Class M, it removes 99.9% of dust with limit Value for occupational exposure > 0.1 mg/m³. It's suitable for processes involving mica, china clay, gypsum, wood dust (such as softwood and hardwood) and silica dust - such as masonry and concrete dust.
Delivered with a 5m long, 32mm diameter suction tube, this versatile extractor has individual operating settings for hose diameters of 21, 27, 32, 36 and 38mm.
FEATURES:
Approved for Dust Classes M in accordance with the EU standard.
Automatic filter cleaning system.
Durable PTFE filter with high filtration efficiency. Washable non-stick membrane
Flat top design for deposit of hand tools and accessories.
Hatchback with big opening for easy access to filter
Individual settings for different hose diameters (21,27,32, 36 and 38mm)
Speed regulation
Air flow sensor beeps when air flow is reduced by clogged filter, full tank etc.
Automatic On/Off function: machine activates when a connected power tool is used.
Integrated hose, cable and accessory storage
Double-wall container with big wheels and steel castors.
Makpac cases can be attached to the unit with optional adapter plate
Comes supplied with 32A plug
SPECIFICATIONS:
Voltage: 110v
Input Wattage: 1000 w
Power Take-Off Wattage: 1750 w
Max Airflow: 4.5 m³/min
Dust Bag Capacity: 30 litres
Max Sealed Suction: 25 kPa
Tank Capacity Dry: 42 litres
Tank Capacity Wet: 29 litres
Net Weight: 16 kg