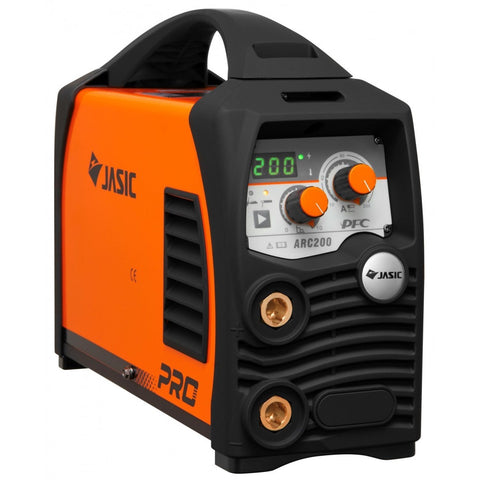 My Store
Jasic Arc Welder 200amp 110/230v - (WEL004)
The Jasic Pro Arc 200 MMA welder is a wide voltage inverter welder is equipped with the latest IGBT technology and a singular PCB for improved efficiency and maintenance.
This technologically advanced PFC ARC Welder offers energy saving benefits and reliable and consistent arc performance.
The Pro Arc 200 also offers lift TIG functionality making it an ideal choice for maintenance and light fabrication. Its an ideal Arc Welder if you have fluctuating power supply as it still produces excellent welding characteristics regardless of the power supply strength.
FEATURES: 
IGBT Inverter technology combining high efficiency and fast switching
MMA / DC Lift TIG
Hot start ignition, anti stick
Self adaptive arc force, VRD
High efficiency 40 Khz inverter frequency
Easy arc starting ensuring minimal spatter
Stable and reliable
Auto-compensation for voltage fluctuation
Advanced single PCB construction
Generator friendly


TECHNICAL DATA:
Input Voltage 95-265V - AC 50/60Hz
115V 230V
Ieff (A) 13.4 12.7
Input Power (kVA) 3.5 7.2
Current Range (A) 10 - 110 10 - 200
Duty Cycle @ 40°C 120A @ 25% 200A @ 25%
No-Load Voltage (V) 68
Efficiency (%) 85
Power Factor 0.998
Protection/Insulation Class IP21S/F
Dimensions (LxWxH mm) 365 x 135 x 280
Weight (Kg) 6.4


RELATED PRODUCTS...


RELATED PRODUCTS...

Welding Screen 2m x 2m- (WSA101)

Oerlikon Fincord Welding Electrodes


NUFIVE Cellulosic Welding Electrodes


Auto-Darken Welding Mask - (ZWE015)


Red Welders Gauntlet Gloves 14" - (PPEG009)


Welding Extension Leads - (WEA001)