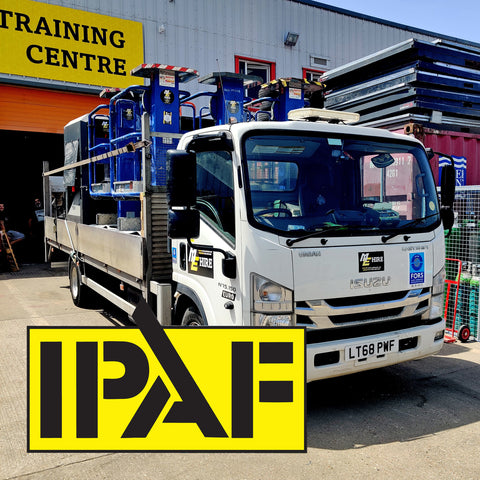 My Store
IPAF Load Course
Loading, transportation, and unloading of plant machinery are vital logistical activities across many industries including powered access and construction.

However, analysis of accident data reveals this activity is one of the leading causes of accidents and injuries. The course examines how these accidents occur and critically, how to prevent them to ensure safe and effective best practice.
The course incorporates a highly interactive theory module with a test, and a practical module with assessment of candidates' hands-on skills.
QUALIFICATION
Upon successful completion of the theory test and practical assessment, candidates receive an IPAF certificate. Those who hold a valid Powered Access Licence (PAL Card) can have LOAD or LOAD+ added to their card – accessed via the IPAF ePAL app.
WHO SHOULD TAKE THIS COURSE?
Anyone who will be loading or unloading heavy plant machinery including MEWPS, dumpers, excavators, telehandlers etc. Candidates must hold a current PAL Card or operator licence.
HOW LONG IS THE COURSE?
One to two days for vehicles up to and including 7.5 tonnes. One to three days for vehicles over 7.5 tonnes.
YOU WILL LEARN...
To safely load, unload, and secure plant machinery onto a suitable vehicle using appropriate equipment ready for transportation on a public highway
What the legal requirements are and how to work in accordance to these
To identify associated hazards and apply effective control measures to prevent accidents
CHOOSE FROM TWO PRACTICAL MODULES
Tailor your practical training to the vehicle size you need to use:
LOAD (for vehicles up to and including 7,500kg) or
LOAD+ (for vehicles over 7,500kg)

DURATION - 1 Day

Starting at 8am