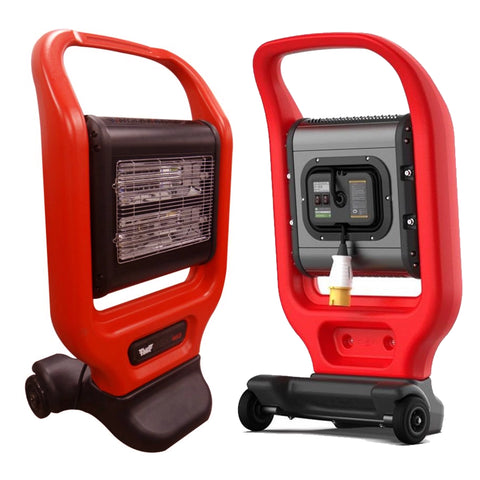 My Store
Infrared Heater - 110v (SSH005)
Our Elite Heater-  MK3 110 volt 2.4 kW Infra-Red Heater has been designed for rugged construction site and industrial use. The compact and robust blow moulded design is not only durable but also light weight making it easy to manoeuvre and features a space saving nesting design making them not only easy to store but also easy to transport.
The Elite Heaters are fitted with 250mm SK15 pre-wired elements with a highly polished reflector ensuring instant maximum heat output and also includes an integrated safety tilt switch, coupled with the many additional features.
Maximum 2400W heat output, half power 1200W.
Hinged Heater Guard: Quick access for changing elements
Electrics Access Panel: Fast access for electrical maintenance
Cable Storage System: Storage of the mains cable keeps it nice and tidy
Nesting System: Space saving storage and easier to transport
Instant heat, achieves full power within seconds
Safety tip switch
Cable Length: 2m
Weight: 12.7kg
Heating Power: setting 1: 4095Btu/1.2Kw, setting 2: 8190 Btu/ 2.4Kw