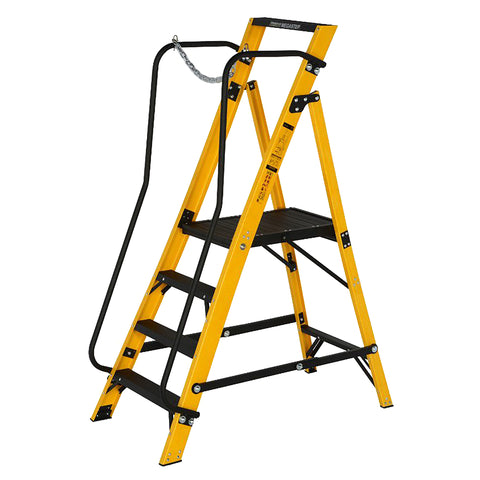 My Store
Extra Wide Platform Steps
CLICK THE IMAGE BELOW TO SEE ALL HEIGHT, WIDTH, DEPTH AND WEIGHT SPECIFICATIONS FOR ALL OUR TREAD VARIANTS...
Our popular Extra Wide Fibreglass Step ladders have been designed to be used in a more demanding and extreme industrial environment.  These are high quality products designed for heavy and frequent use. 
All our Extra Wide Step ladders have been designed with the operator in mind.A comfortable 400mm wide tread is used as standard with a 600mm deep work platform fitted with a rear safety chain giving the operator 360 Degree safety when working at height.
Handrails are fitted as standard for additional safety when working at height. Wheels at rear have been fitted to make transporting our extra wide step ladders easier. All frames are manufactured in glass fibre and treads from sturdy Aluminium making this Extra Wide Step ladder range suitable for industrial work as well as trade use.