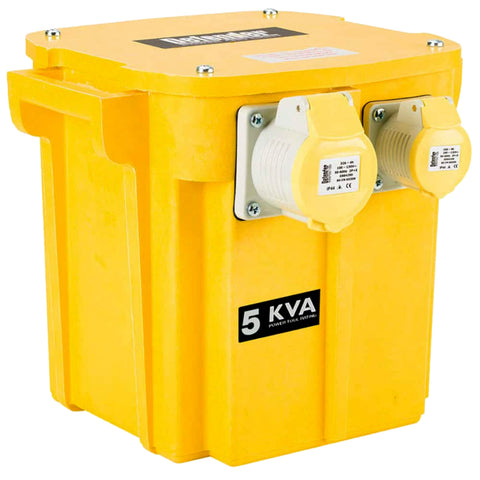 My Store
5kva Portable Transformer - 110v 16+32amp (ZST005)
Popular transformer built for demanding construction tasks where mains voltage needs stepping down and isolating.

Tough GRP case with 2 x 16A and 1 x 32A 110V outlets. Resettable thermal overload protection. For use with larger industrial power tools such as SDS drills, demolition hammers, bench grinders, 9" angle grinders, jigsaws and circular saws. Also suitable for lighting, heating products, industrial fans, dehumidifiers and fume extractors. Intermittent rating of 5000W. Duty cycle 5mins on/15 mins off. Continuous rating 2800W. Supplied without plug. Centre tapped to earth for extra safety.
Specifications:
Outlets 110V, 2 x 16A, 1 x 32A.
Rubber cable 1.8m, 2.5mm2, 3 core, H07 RNF.
Dimensions 280 x 315 x 355mm.
Weight 31kg.