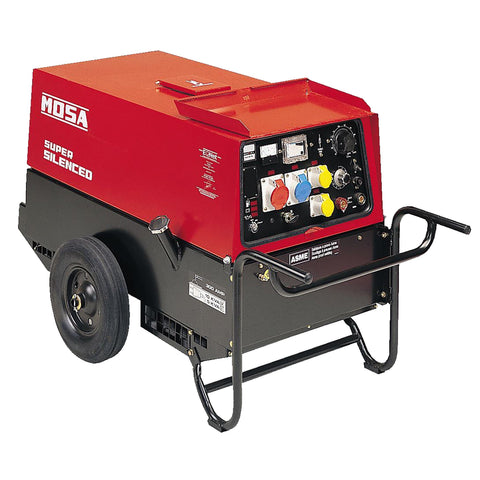 My Store
300amp Diesel ARC Welder (WEL009)
The Mosa welder TS 300 KSX/EL is an industrial quality, high specification, engine driven diesel welder generator for site welding work.

The TS300 Mosa welder provides 300 amps welding output and 110/240/415V/10KVA electrical auxiliary output, stepless welding power adjustment and a lockable super silenced canopy. Mosa Welder Key Features: 300 amp DC welding output. Powerful and efficient Kohler KD477-2 diesel engine. Stepless electronic welding control. Arc control for cellulose electrodes. AC generator output - multi-voltage 10kVA. Electric start. Auto idle control. Super silenced canopy. EEC noise compliant.

DOWNLOAD OPERATOR MANUAL HERE:


RELATED PRODUCTS...
Welding Screen 2m x 2m- (WSA101)

Oerlikon Fincord Welding Electrodes


NUFIVE Cellulosic Welding Electrodes


Auto-Darken Welding Mask - (ZWE015)


Red Welders Gauntlet Gloves 14" - (PPEG009)


Welding Extension Leads - (WEA001)


Jerry Can - (SPE032)