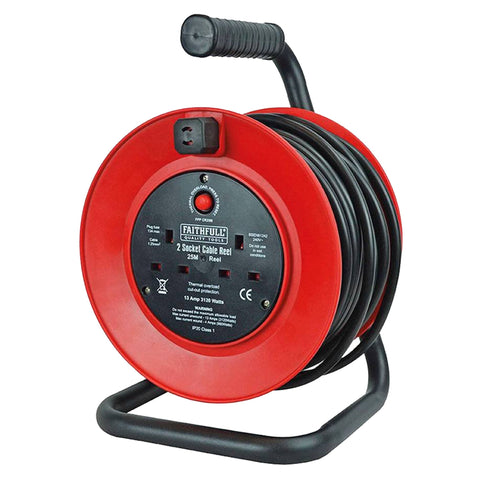 My Store
25m Extension Reel - 240v 13amp (ZSC015)
Faithfull Open Drum Cable Reel with a have a heavy-duty plastic drum on a sturdy steel frame with carry handle and a thermal overload protection system to prevent overheating damaging the cable. They are fitted with twin 240V sockets and the 1.25mm² cable is with fitted with a standard 240V plug.

When using a 240V cable reel outdoors, or in the vicinity of a machine with mechanism which could damage the cable, it is recommended that an RCD device (FPP RCD) is used at the power source in conjunction with the reel.
Always check that the power supply matches the voltage on the reel's rating plate. Never attempt to connect a 240V appliance to a 110V supply and vice versa. If you need to use a cable reel, select one suitable for the power input of the appliance.


Cable Length: 25 Metres.

Voltage: 240 Volt.

Fully Unwound: 3120 Watt (13 Amps).

Fully Wound: 960 Watt (4 Amps).