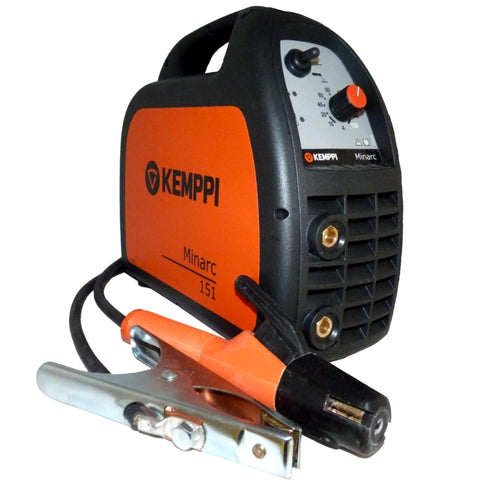 My Store
150amp Kemppi Minarc 151 Welder - 110V - 32 Amp (WEL001)
The main advantage of welding with the Kemppi Minarc 150 is that you can get started anywhere.

Not just because you don't need any shielding gas, but also because the Minarc 150 doesn't weigh more than 4kg, is shockproof, and has control buttons that are dirt and moisture proof. You can weld steel or stainless steel with 1.5mm to 3.25mm electrodes and a power supply of 10 to 140 amperes. The electronic arc control, allowing you to vary the arc length, makes this welding device an ideal choice for repairs and maintenance jobs. It allows you to work optimally in difficult welding positions. The hotstart function helps you ignite the electrode without any problems regardless the conditions. You can easily move this lightweight device from one job to another, using the included carrying strap.


You can use the welding device for both shielded metal arc welding and TIG welding.

The range of 10 to 140 amperes makes this welding device suitable for welding a range of thicknesses.

A shielded metal arc welding device is also suitable for outdoor use, because you don't need any shielding gas.


DOWNLOAD OPERATOR MANUAL HERE:

RELATED PRODUCTS...

Welding Screen 2m x 2m- (WSA101)

Oerlikon Fincord Welding Electrodes


NUFIVE Cellulosic Welding Electrodes


Auto-Darken Welding Mask - (ZWE015)


Red Welders Gauntlet Gloves 14" - (PPEG009)


Welding Extension Leads - (WEA001)